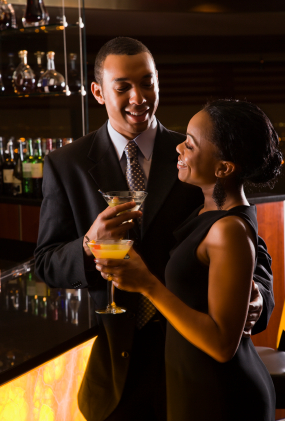 My girlfriends and I went out a couple weeks ago for Fashion's Night Out. If you don't live in New York City, it's basically a time when all fashionistas dress up in their chicest clothes to try and one-up the next girl (or gay guy). There are events all over the city, and champagne is given out in some of the high-end stores. It's essentially the epitome of Fashion Week, when everyone who's everyone comes in to the city to attend/coordinate all the fashion shows.
Anywho, by the end of the night, I was four glasses of champagne in and starrrrving. Luckily, we had made reservations at Tao, a fancy Asian restaurant that charges about $87 for a California roll. We made our way through the beautiful-people-filled streets and into the Tao foyer.
As I walked through the door, I received a text message from a friend of mine (who sceeves feet). I had sent him a picture of my outfit and he wrote back, "Very pretty, I hope you didn't ruin it with open-toed shoes." To show him I 'hadn't', I held on to the door and began to take a picture of my foot.
Just then, a guy in a suit walked out of the door and startled me.
"Oh, I'm sorry," I said, and then looked up at him in awe. Standing at 6'4, this blonde-haired, blue-eyed giant was nothing short of entrancing. His sparkling eyes danced as he stared down at me, piercing my own dark eyes. (In case you're wondering why I'm writing this like an old-time movie, it was like an old-time movie!)
Could this guy possibly get any better?
"Do you have an infatuation with your left foot?" he asked, with a stunning accent. YES, YES HE COULD GET BETTER.
"I, I," I had apparently lost all ability to speak.
"I…" he said, smiling. Perfect white teeth. I'm in trouble.
"I'm not taking it for myself, I'm taking it for a friend," I blurted out.
"Does your friend have an infatuation with your left foot?" And he smiled again. What's my name again?
"It's a long story." It's definitely not a long story. But I had forgotten how to formulate words.
"Then I guess we should move over here so you can tell me," he said.
We walked away from the doorway and over to the side. He kept me in the same trance and grabbed my hand.
"You are so adorable," he said, and twirled me. As he turned me back to him he leaned in to kiss me.
I turned my face away from his, and he pulled his head back.
"No," I said, shaking my head in confusion.
"I'm sorry. You're just so adorable that I just wanted to make out with you within 45 seconds of meeting you." Then he stared at me again and exhaled. "I literally have no words when I look at you. I'm actually speechless."
Who was this guy???
"No, don't be speechless. I want you to speak," I said.
"Why?"
"I wouldn't expect someone from…England? to understand."
"Yes, I wouldn't expect someone from England to understand, either. Thank goodness I just moved here from South Africa."
"Oh my God! I used to date someone from South Africa!" I said, pushing against him (and inadvertantly pushing myself backwards).
"Oh no, you have terrible taste," he said, shaking his head.
"I know. It was actually the worst date of my life. I even talked about it on the radio!"
"See, you should really stay away from those South Africans. They're a wicked sort of people."
"Yeah, but I don't really listen to anything you guys say anyway…I just really like hearing you speak," I said with a smirk.
"Well, in that case, no harm no foul…I know your friends are waiting for you to have dinner, so I won't keep you. But I'd love to meet you in another doorway on purpose."
"I would, also," I said, smiling.
"Well, I see you have a cell phone," he said, and looked down at the phone still clutched in my hand.
I stared down at it confused, and back up at him still confused. Then I slowly lifted it. He took that as a sign to take it from me and put his number in it.
"I'm Matthew, by the way."
"I'm Jennifer."
Grabbing my hand again (another twirl, perhaps?), he said, "Well, Jennifer, it was a pleasure meeting you and I hope to meet you again extremely soon,"  and lifted it to his lips and kissed it.
I nodded, and came up to my ear and whispered, "Text me".
And then he was gone. One minute later I was answering squealing questions from my friends about who he was and what just happened. The answer for both questions: I have no damn clue.
Have you ever been completely entranced by a beautiful, foreign stranger? What happened?